However you are not sure what type of Christmas nail art to put on your nails, or how you can paint them on. What you need to remember is that red and green is the classic Christmas color, but you can always deviate from the norm, with being a bit creative of course. The grand thing about experimenting with other colors for Christmas is that it makes your nail art unique and a total stand out. Don't be afraid to experiment though, you should also be careful of not overdoing it lest your nails become a fashion disaster.
Now you ask yourself: how do I start with painting my Christmas nails?
Below is an example of a design that you can try out for a start for your Christmas nail art project.
Christmas tree nail art
What's the best representation of Christmas that you can paint? A good old Christmas tree of course. Try to recreate a cute Christmas tree nail art as well as adding other cute designs on your nails for variety.
Start by painting on a clear base coat. The base coat is what protects your nails from being damaged from the layers of nail polish on top of it. Most base colors are white but you can also use a clear coat for this one.
Choose two colors of polishes that you can paint alternately on your nails. The good thing about alternate painting is that it makes your nails look more interesting and adds more attitude to the nail art. You can choose from red and white, red and green or even blue and white. The white coated nails will be the canvas for your Christmas tree.
After applying the colors make sure that they are dry first before applying another layer. For the next step get a green polish that will serve as the body of your Christmas tree. Simply dip the brush inside and create dotted lines that form a triangle. You can start by placing three dotted lines on the bottom, two above it then one on top thus creating a Christmas tree shape.
You can use the regular polish brush for the dots, however if you find the brush hard to use you can always go for the special smaller brushes that are made for tiny designs like these. On the other hand you can also be practical and go for toothpicks which can also do the same wonders.
After painting on the tree you can paint other designs on the colored part of the nails. Draw stripes or diagonal lines using the toothpick or small brush for more precision. You can then add more dots to your Christmas tree for example try putting on red dots to signify Christmas balls and a yellow dot on top of the tree for the star.
Unless you have a really thin and fine brush to use, you can draw the star in detail, but if you don't this will be very challenging but dipping the brush to form a circle is also acceptable.
You can then add more designs to your nail art by using glitter polish for the stencil effect. You can even opt for the metallic polish to make more details on your Christmas tree.
Using the clear coat, apply it on the very top of the layers. Make sure that all the polish has dried before applying the top coat. If you could, wait at least ten minutes for the polish to completely dry off before applying the clear coat on top.
After that you now have your own Christmas themed nail art design! Of course there are plenty more interesting designs that you can use as reference or get motivation from. You can always search online for images of Christmas nail art designs that you wish to recreate.
The key to perfecting nail art is practice. You can never say that one design is too difficult because you can always try it and see for yourself. Even though you can't get the exact patterns on the first try, just try again.
If you want to have an almost subtle Christmas nail art then you can always go for the color combinations that are normal yet fitting towards the festive occasion. You can also go for simpler designs such as French tips or plaid designs which also work for any type of occasion.
The important thing is you can find the perfect Christmas nail art design that you are looking for and that you can recreate it on your own nails just in time for the Christmas celebration.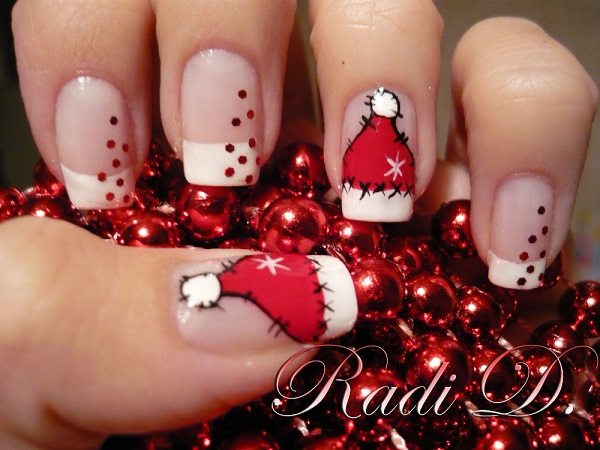 Check out this wonderful Santa hat nail art. Be creative and paint on Santa hat French tips on your nails with stencil embellishments as cascading Christmas balls.
Christmas nail art